Recurring Billing Overview
Leases, subscriptions, service contracts, and other scheduled billings are becoming a key management tool for many businesses.  The recurring billing tool within EBMS is used to create a repetitive invoice each week, month, year, or other recurring schedule.  The recurring process creates an invoice from the pricing, service codes, and descriptions recorded on a proposal.  An optional date range is inserted into the sales invoice to complete the billing document for multiple clients as shown below: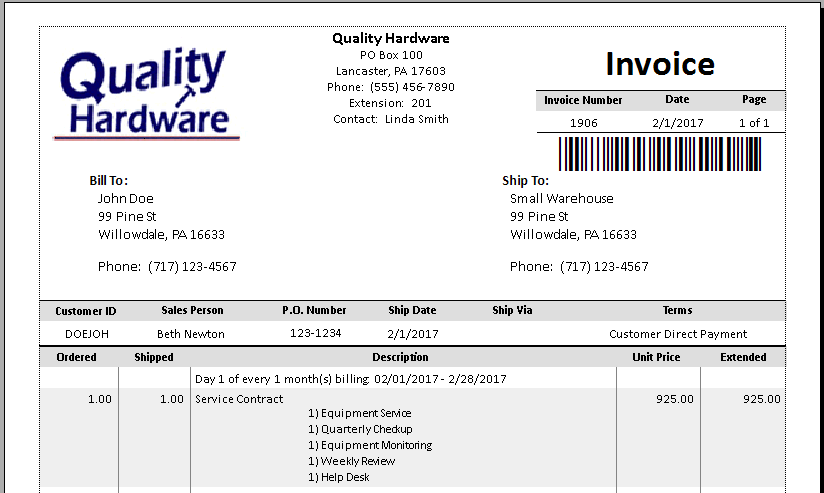 A credit card or ACH payment for all or some of these billings completes the recurring process.  See the example Customer Direct Payment terms setting shown above.  Combine this feature with job costing to compare recurring revenue with the labor, parts, and other costs associated with a specific contract.
Scenario: A mechanical contractor offers a service contract to manage the HVAC units for an office complex.  The contract covers the preventive maintenance supplies and labor as well as minor repairs and adjustments.  This popular service gives the customer the peace of mind that the mechanical equipment is being maintained and serviced to maintain consistent operation of the HVAC equipment, reduce maintenance costs, and maximize the life of the equipment.  The monthly billing assists the mechanical contractor's cash flow and simplifies the customer's cost management.  Technicians record labor and parts within the EBMS task system to give the business owners the information they need to manage the profitability of individual contracts.
Scenario:  A lift truck sales and service company includes service contracts for their client's equipment.  These contracts organize regular equipment service to maximize manufacture warranties, increase equipment up-time, and reduce emergency service calls.  The billing consists of monthly electronic invoices that are paid using ACH payments to minimize overhead costs.  Equipment specifications and service part details are recorded within EBMS to manage the stocking of supplies, streamline the preventive maintenance service calls, and manage the contract.  The service contracts are scheduled in a way to maximize labor efficiency and motivate and reward technicians.  A visual organization of preventive maintenance tasks allows technicians to organize and schedule these recurring events.
Scenario:  A landscaping supply center offers property management service to both commercial and residential customers.  This annual service contract is billed monthly and requires an electronic customer payment via credit card or other direct payment.  The company offers various properly management services such as landscaping, lawn care, snow removal, maintenance, and a variety of other services that are tailored to the client's needs.  The profitability of this service profit center as well as the profitability of individual contracts are easily managed using various EBMS tools.  The efficient recurring billing process, the organized labor scheduling, and effective cost management of landscaping supplies makes this service profit center an asset to the supply center company.
The recurring billing tools within EBMS are set within the proposal dialog.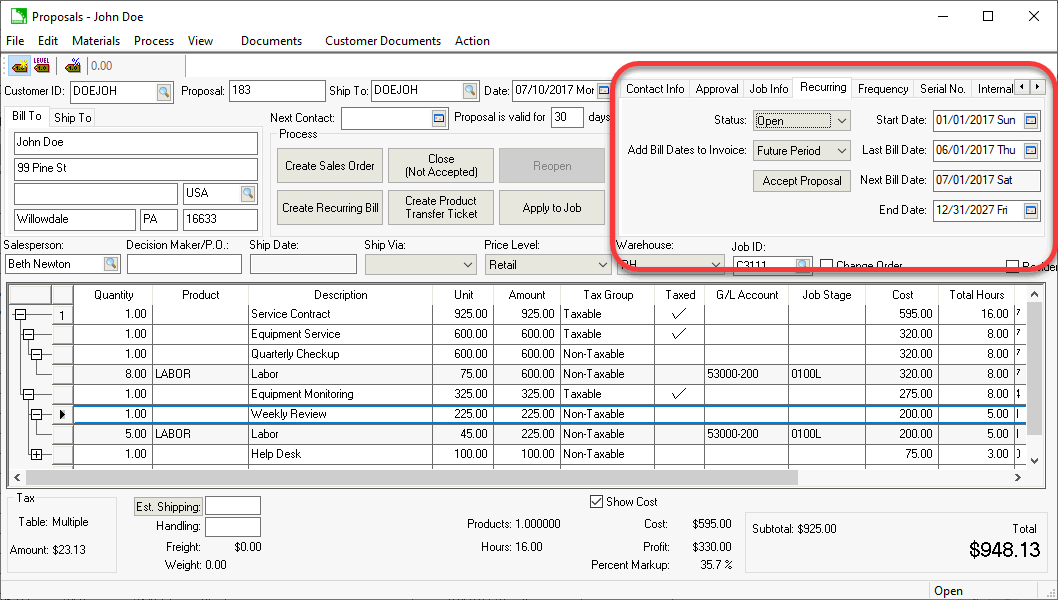 Complete the following steps to process recurring billing:
Configure proposals for recurring billing:  Review Scheduling a Recurring Invoice to create the proposal and set the recurring settings

Change the frequency settings for existing proposals:  Review Frequency Settings for a complete list of recurring billing schedule options.

Enable the option to apply customer credits to billings:  Review Applying Customer Credits for configuration instructions.

Configure proposal terms to process payments when invoices are processed:  Review Customer Payments > Direct and Automated Payments to automate the payments of the recurring billing using credit card or ACH payments.   

Create sales invoices from proposals and batch process invoices and payments:  Review Recurring Billing Process for these process steps.

Use the manual method to create invoices out of sequence or to manually create billings:  Review Manually Create Recurring Invoices for details on this optional process.  

Batch uploading of ACH payments:  Review the steps listed in Customer Payments > Process ACH Payments for instructions to upload ACH payments as a batch NACHA file.

Managing contracts using job costing:  Review [Financials] Job Costing Overview for instructions to use job costing in EBMS for contracts.

Managing preventive maintenance contracts:  Review [Financials] Job Costing > Contract Billings > Recurring Billings for steps to configure service contracts.
The combination of the Recurring Billing, Batch Processing, and Job Costing module is a great solution to manage and bill service contracts or fixed rate services.