Using EBMS Data within UPS WorldShip
Interfacing UPS WorldShip with the EBMS software allows the World Ship to import customer information, preferred shipping methods, and other order entry details from EBMS and pass the tracking number, shipping costs, and other details back to EBMS.  
Please contact your United Postal Service (UPS) to install UPS WorldShip software.
Complete the following steps to integrate UPS WorldShip with the EBMS order entry and shipping process:
Pulling EBMS sales order or invoice information into WorldShip
Select Import-Export Tab > Keyed Import from the main UPS WorldShip menu as shown below:

Select EBMS to UPS from the list, and click Import.
The Enter import key: dialog will open as shown above:
Enter the sales order or invoice number to pull order information from EBMS into WorldShip.   Note that the Import Key refers to the Primary Key entered in UPS Mapping.
Use UPS World ship to weigh and create the shipping label.
Continue with the following section on how to view UPS shipping info from within the EBMS sales invoice.
Viewing WorldShip information within EBMS
Open a sales order within EBMS:    Review the Sales Orders > Viewing and Changing Sales Orders section for details on opening an order in EBMS.
Click on the Shipping tab on the top right corner of the sales invoice as shown below: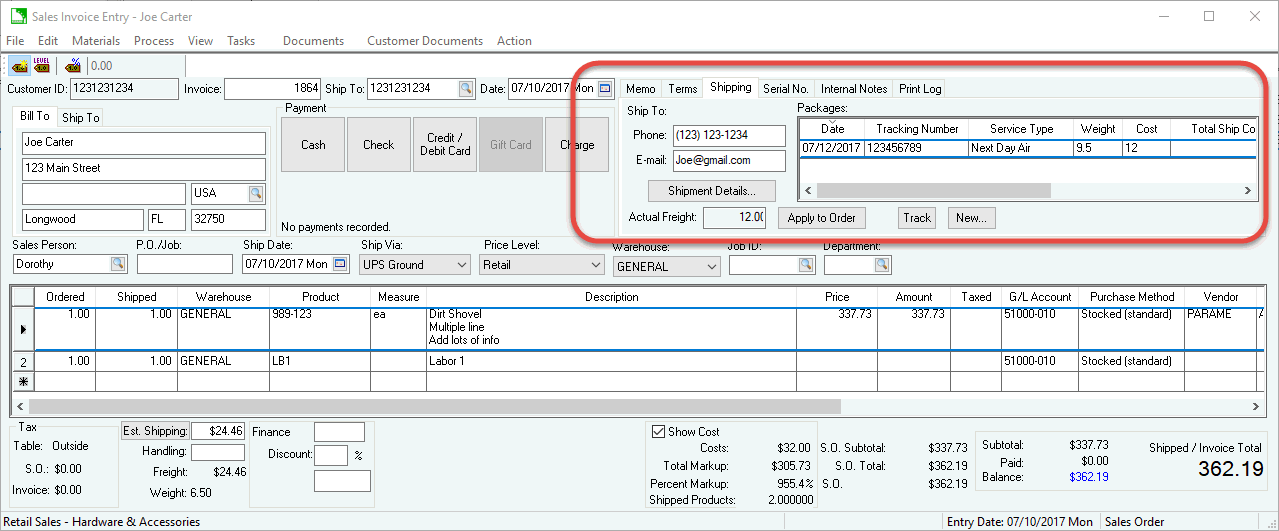 Review Calculating Freight Charges on Sales Invoice for more details on these settings.