Subcontractor Labor within a Job Transfer
A job materials list may include subcontractor labor and services as well as job materials.  This process facilitates the quoting, project contacts, and billing of both subcontractor labor and services as well as product.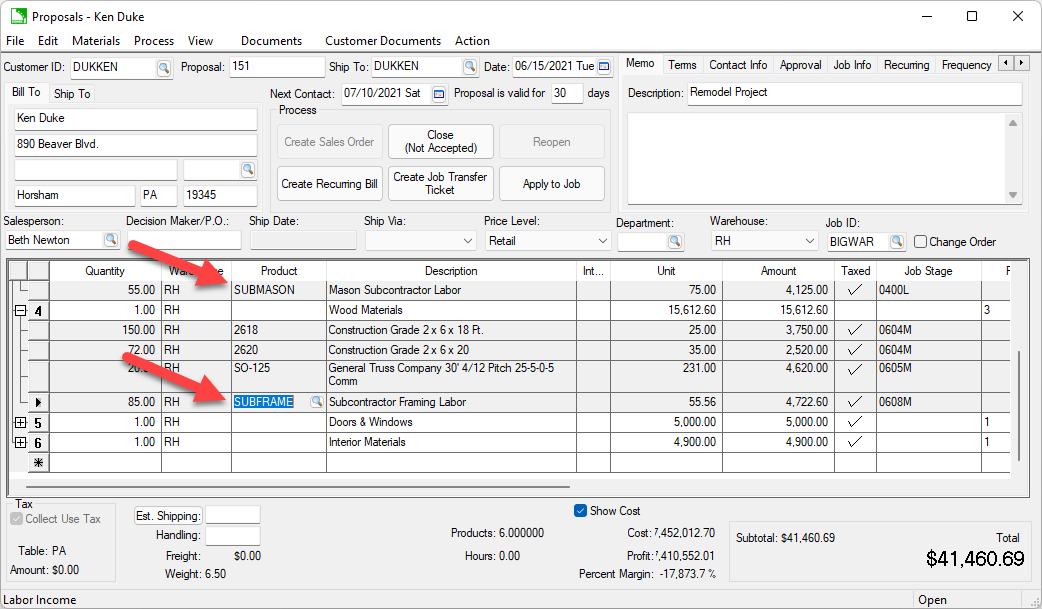 Complete the following steps to include subcontractor labor with materials within a job:
Create a product code for subcontractor labor.   Product codes for Subcontractor labor should be separate from internal or company labor. 

Set the Classification as Service if the labor is being purchased and tracked within the job in hours.   Use the No Count Classifcation if the subcontactor service is being billed as a contract price rather than by the hour.
Review [Inventory] Product Catalog > Using Product Codes for Non-Inventory Items > Service codes for instructions on creating labor codes. 

Enter the job costing labor financial account.  This financial account should be a direct job cost financial account.  


Select the This service product is a subcontract labor... option that is billed using an expense invoice.   Select the alternate labor and service billing code option if the labor is processed by the labor module.  Note that labor and service billing codes cannot be added to a job transfer ticket.  

Enter the credit Job Cost Offset account.  Review Transactions > Credit Offset Transactions for more details on this account. 

Set the expected cost of the subcontractor labor within the Pricing tab.   Review [Inventory] Product Pricing for more information on the cost setting. 

Insert the subcontactor codes into the proposal and copy the subcontractor codes to a Transfer ticket.  Review Materials List within a Proposal for steps to create a transfer ticket from a proposal.   

Note that transfer tickets may only contain subcontractor product codes.   Labor and service billing codes will not copy to a transfer or expense invoice since the labor module handles internal labor costs.  

Use the same process to create purchase orders for subcontractors at Materials.  Review Material Purchase Orders for instructions.   
Note that any inventory item classified as Service will increase the total hours applied to a labor stage of the job. 
Review Job Costs > Labor Expenses for more job costing labor entry information.