Print Logging
The Print Log feature built within EBMS allows the user the ability to quickly view the reports which have been printed for a given customer on a specific document.
These Print Logs can be accessed through the Print Log tab located on the proposal, sales order, purchase order, or manufacturing batch.
Time Saving Benefits:
Reports can be printed again quickly and easily by simply selecting the report and clicking the Print button located next to the display area.

By viewing the 'Printed Last' log (pointed out in the screen shot below) a quick job STATUS can easily be discerned. For example, if the 'Printed Last' log is for a 'Pick List' report, the order and related inventory items are currently being pulled from inventory.
Shown below is the Print Log tab as displayed on the Sales Order.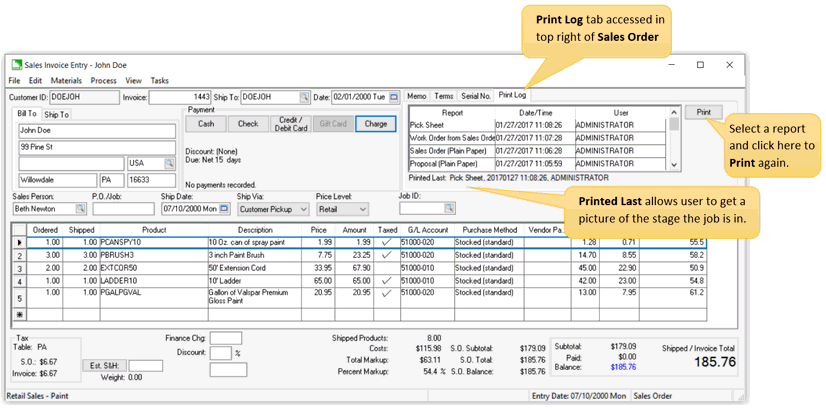 NOTE: The Printed Last field can be queried within the Batch Processing module to create batches of orders that have the same status. For example: all orders that have had a 'Packing List' printed and are now ready to be processed. Query the 'LAST_PRINT' field for a Value that starts with 'Packing List' if that is the name of the report.  Review [Sales] Invoices > Batch Processing for more query details.
Review [Sales] Sales orders > Sales Order Documents for more information on printing order documents.
Review [Financials] Purchase Orders > Edit or Print Purchase Orders on PO print logs.
Review [Inventory] Manufacturing > Creating a Batch > Edit or Print a Batch for more details on manufacturing batch print logs.