Invoice and Sales Order Aging
EBMS contains a number of sales invoice aging reports based on the terms of the invoice.  Accounts receivable aging reports can be based on a past date in order to list invoice aging for a date in the past.  The evaluation of the accounts receivable is based on the terms and the invoice date.  Aging reports can be based on customer, accounts receivable general ledger account, or sales person.  
The terms of an invoice are copied from the default terms within the customer.  Review Customers > Setting Customer Defaults for steps to configure common default terms or review Customers > Changing Customer Information to change the default terms for a specific customer.  
The terms of an invoice dictate the aging of a sales invoice.  Review Payment Methods and Terms for more details on invoice term options.
Invoice Aging Report
A report is used within EBMS to report invoice aging.  Complete the following steps to generate the accounts receivable aging report:
Launch the invoice aging report by selecting Reports > Sales > Invoices/Sales Orders > Accounts Receivable Aging from the main EBMS File > Reports menu.


Select All Customers or a Range of customers.  Launch this report from the customer's print button to print the aging report for a single customer.  Review [Main] Reports > Print Buttons and Menus for instructions to add a report to a print button.  

Select All A/R Accounts or a Range of general ledger accounts classified as Accounts Receivable.   Review [Financials] Chart of Accounts > Account Classification for instructions on classifying AR accounts.

Enter the A/R Aging Date:  Set the aging date in the past to generate a report for the end of a period.  

Set the Aging Based on option of Invoice Date unless the aging report needs to be calculated from the Due Date.  

Set the Show option as Invoice Aging.

The Aging Column Increments defaults to 30 days.   Change this value to create a longer or shorter aging period increments.

Enable the Show Overdue Invoices Only to limit the report to only invoices that are past due.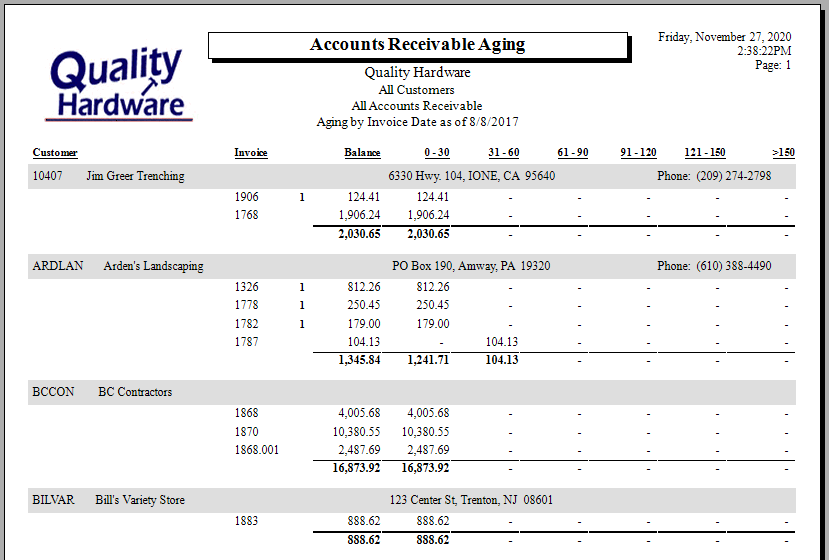 Sales Order Aging Report
The following report is a sales order aging report based on the entry date.  Launch the sales order aging report by selecting Reports > Sales > Invoices/Sales Orders > Sales Orders Aging by Entry Date from the main EBMS File > Reports menu.
The entry date within an order defaults to the day the sales order was created.  This date can be edited by selecting View > Advanced Options > Options from the sales order menu.