Inventory History
EBMS retains a large amount of purchasing and sales history information for each inventory item.
Go to Inventory > Product Catalog and select an item to view the history year tabs. Click on any fiscal year tab to view the item's annual history.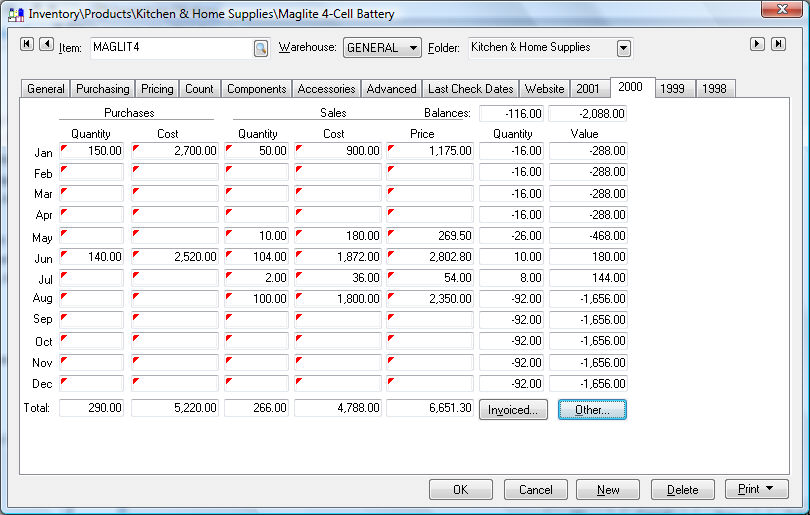 A history year tab will appear for each year that the item was purchased or sold. EBMS does not restrict the number of years or tabs that may exist. Each year history page lists the monthly totals of both purchases and sales. The Quantity and Costs of all purchases as well as the Quantity, Cost, and Sales totals will be displayed for each month.
To drill down and view the source expense or sales invoices take the following steps:
Place the cursor on the summary total to be viewed by clicking on the summary total with your mouse or tabbing to it using the keyboard.

Right-click to display the context menu and select drill down. The source Detail window will open.


To view specific transactions, double-click on the desired invoice and click the Source button. It is not possible to drill down on the balance columns. Note that all transactions must be posted to the general ledger before they will appear on the inventory year history tabs.
The Counts and Value balance columns will appear on the far right side of the history year tab only when the inventory is classified as Track Count, Registered Whole Goods, or Special Orders. It is not possible to drill down on balance columns.
All history transactions are retained until the user decides to remove them using the purge utilities. The year-end close procedure does not remove history transactions or invoices.
Review Financials > Transactions > Account History Tabs of the main documentation for more details on the history tab summary.
Review Sales and Purchase Activity for details on sales history for a specific customer.