Assigning Lots to a Sale or Items Consumed
The power of the Lots module is that a lot number is assigned each time an inventory item is sold, consumed within the manufacturing module, transferred to a job, or moved to anther warehouse.  The Lot Number can be assigned using one of the following methods:
Manually selecting the lot number

Scanning the lot number using a barcode

Automatically selecting lots
Manually Selecting the Lot Number
The lot number can be assigned to the detail lines of a sales order any time before the sales order is processed into a sales invoice.  Complete the following steps to select the desired Lot Number within a sales order.   
Open a sales invoice and right click on any detail line to view or select Lot properties as shown below:


Click on the Lots option to open the selection dialog as shown below:
 
Note that the Selected pane shows the Quantity within the sales order.  

Double click on the desired Lot within the Available pane to set the Lot Number and Lot Date within the Selected pane of the dialog.

Reduce the Quantity amount if the first Lot of the product is being taken from multiple lots.  

The Total to Select and the Total Selected must equal before the dialog is closed.  Click OK to return to the sales order.  

Repeat for each line of the sales order with inventory items classified as

Lots.
Scanning the Lot Number using a barcode
Lot numbers can be scanned into a sales order, manufacturing batch, or other document using the standard barcode.   EBMS allows the user to scan a Lot Number into EBMS the same way as an inventory item ID.   This feature gives the user the ability to scan product into a sales order using a single Lot Number bar code rather than scanning an inventory ID and a 2nd lot number barcode.  The software will prompt the user if duplicate Lot Numbers exist with different inventory IDs.    Review Barcodes > Overview for setup and scanning details.
Automatically Selecting Lots
The EBMS lots selection process can be automatically assigned by the software for inventory items Classified as Lots - Ave Costs.  The Lots Control option below does not appear if the inventory item is Classified as Lots - Linked Costs.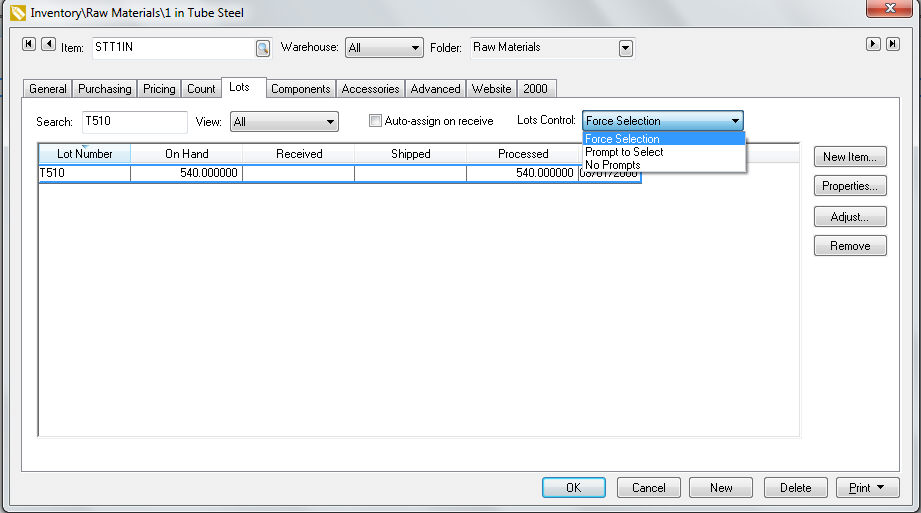 Select one of the following Lots Control settings:
Force Selection - This recommended option forces the user to manually select the Lot Number. This option requires the user to select a Lot Number before the sales order is processed into an invoice.   

Prompt to Select - This option prompts the user to select a Lot Number but does not require a selection. The user can cancel the selection process.

No Prompts - The user has the option to right click on the detail line to assign a lot number but is never prompted to make the selection.   
Continue with the Tracing Lots and Reporting Lots Information section to review existing lots information.