Departments and Profit Centers Overview
Departments are used to help management be able to print profit reports and other necessary information in a logical format, focusing on a specific department of the business. Departments are an extension to the general ledger account numbers. They are three digit codes used to designate different departments, divisions, locations, or product lines of a company. Departments can be a powerful way to analyze the profitability of a specific segment of the company. The system facilitates separate Profit & Loss statements for individual departments or Profit Centers as well as other financial statements.
Although departments and Profit Centers can be synonymous, the following distinction will be used throughout the EBMS software.
A

Department

is a separate location, division, or product line within a company.

A

Profit Center

can consist of a group of one or more departments that are grouped together for financial summaries such as profit & loss and balance statements. A profit center, location, or department is coded within the general ledger chart of accounts by the 3-digit extension to the main 5-digit account code.
Overhead costs can be posted to a single general ledger account and then allocated to individual profit centers based on a monthly or annual percentage. The dynamic percentage can be entered on a monthly or annual basis. For example, multiple profit centers may share a common building and the building costs such as maintenance, utilities, and insurances. These costs are then distributed to the individual profit centers based on the percent of space used within the building.  Review Allocating Indirect Expenses to a Profit Center for more details on this powerful management tool.
It is recommended that you plan your departments and Profit Centers prior to using the system. Creating these groups after transactions have been processed may create some possible complications.
Scenario: An agriculture company sells equipment to farmers and services various equipment for their customers. The company also manufactures equipment attachments. The equipment sales team is incentivized based on targeted sales. Salesperson commissions are calculated on the profit margin of the sale. Managing labor and determining customer satisfaction is the focus within the service department. The attachments manufactured can also be purchased from a local machine shop. The margin between the wholesale price from the alternate source and cost of internal manufacturing is the "revenue" for the manufacturing department. The profit center profit and loss statements are important evaluation tools for department managers as well as the company management.
Scenario: A building supply company sells various building materials to contractors and consumers. The company separates the door and window department from the lumber and hardware departments. The company also roll-forms MTO metal panels and trim for their clients and their pole barn building division. The door and window department sells many custom-made products to fit the customer's needs. The construction department uses job costing to evaluate the profitability of individual projects. The profit center evaluation of individual segments of the company is critical in guiding the growing company into the future.
Scenario: A mechanical company offers various plumbing services in the community. A team of service technicians offer repair services to both homeowners and commercial clients. New installation projects are organized in jobs and involve budgets, progress billing, and change
orders. The new installation profit center is separate from the repair department. The management tools including profit center reporting within EBMS are critical to guide this company's growth and profitability.
Department and Profit Center Examples
Following are some examples of how departments and Profit Centers may be used:
A hardware store may divide the store in the following departments:

Tools

Sporting equipment

Lawn & Garden

Automotive

Hardware

Building supplies, etc.

The manager may identify each department as a separate profit center or he may combine a few of the departments together into a common profit center that is managed by the same person. A possible advantage of creating departments for this store owner would be to determine which departments are the most profitable within his operation.

A farm equipment dealer may want to create the following departments:
Farm tractor sales

Farm tractor service

Harvesting & cultivating equipment sales

Harvesting & cultivating equipment service

Lawn and garden equipment sales

Lawn and garden equipment service
With the following Profit Centers:
Sales Profit Center which includes all the sales departments

Service Profit Center which includes all the service departments
Another possible use for Profit Centers would be to identify locations for companies with multiple locations as well as multiple departments within each location. A hardware store owner may own more than one store with the departments listed in our first example.
Company profit centers would include:
Location A

Location B

Mobile service truck
Each of the locations would contain one or more of the following:
Tools

Sporting equipment

Lawn & Garden

Automotive

Hardware

Building supplies
Profit Centers can also identify entire divisions within companies, such as:
Manufacturing division

Service division

Sales division
Should our Company Create Departments or Profit Centers?
Following are some questions to ask to determine if departments or Profit Centers would be beneficial to your company. Note that these are only general recommendations and you may wish to consult your accountant or an EBMS consultant.
Question 1: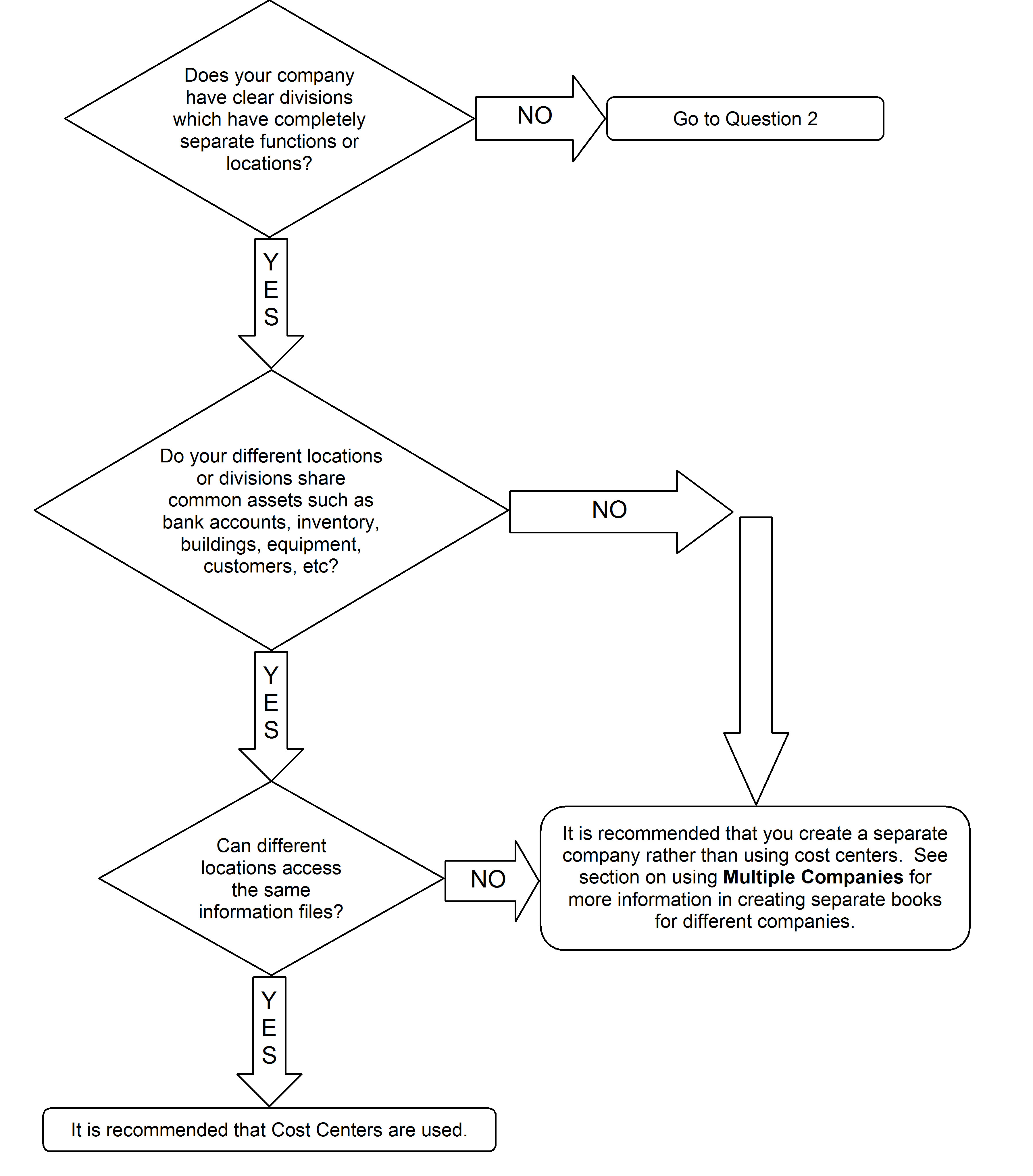 Question 2A: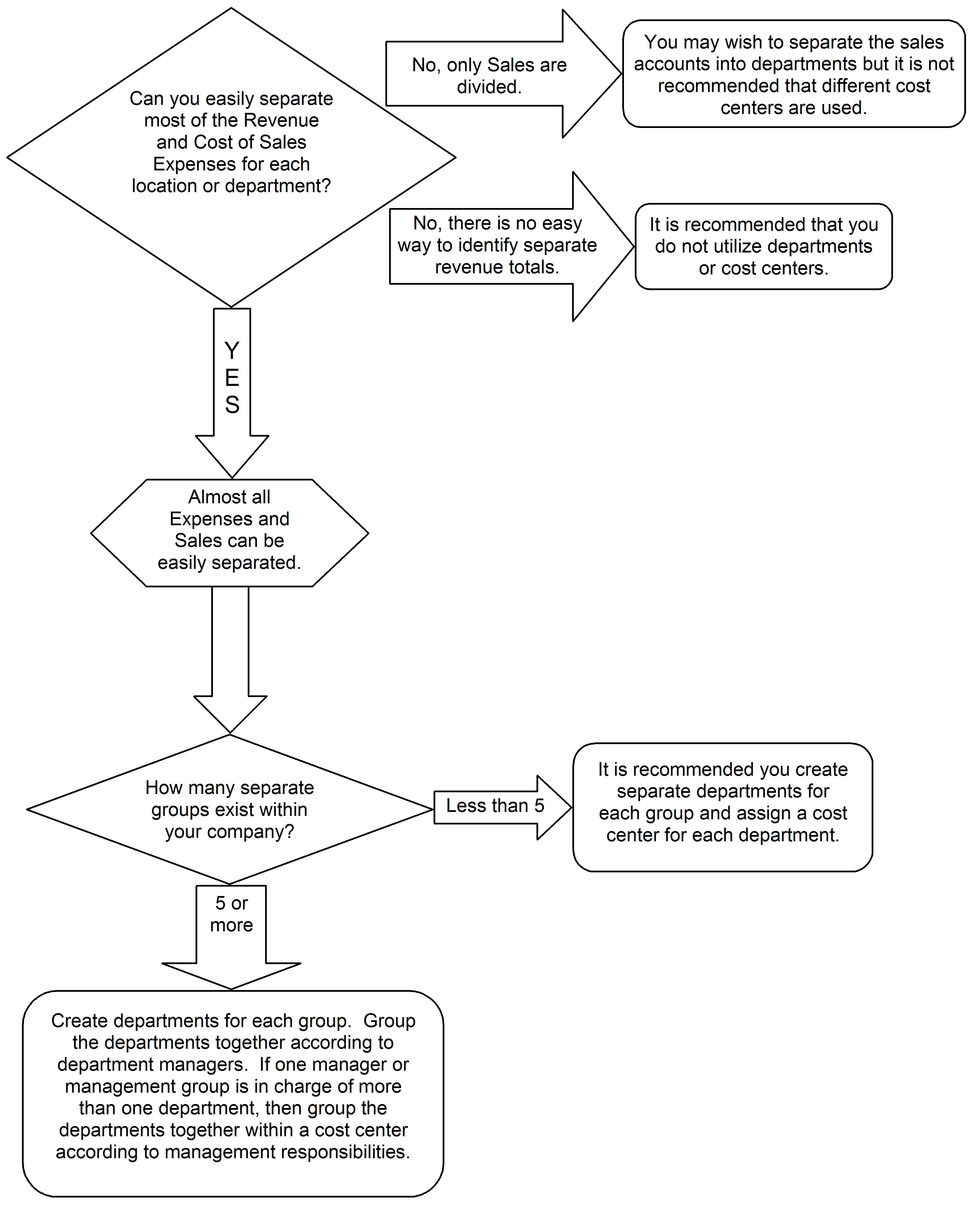 Question 2B: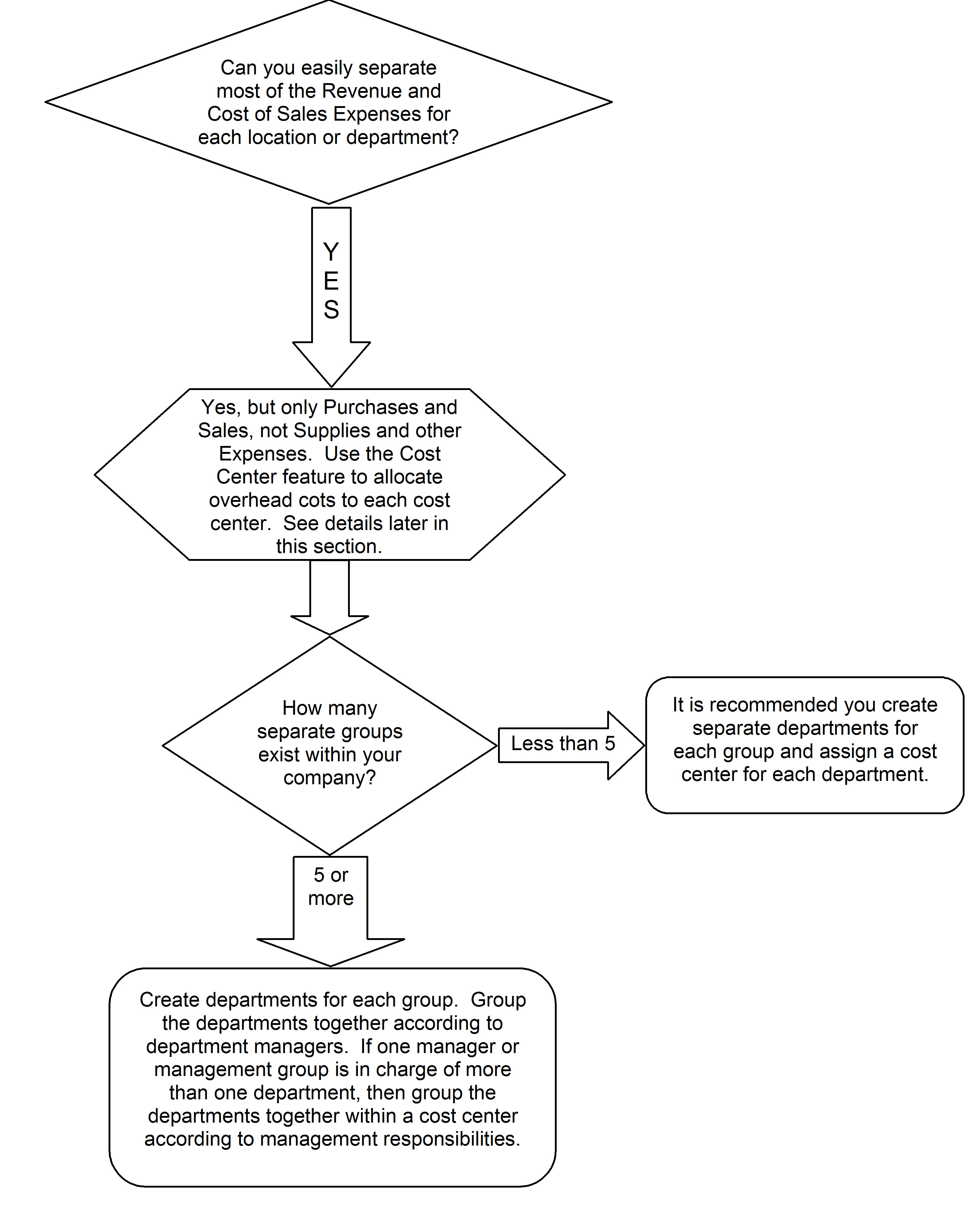 Please contact an EBMS consultant for assistance in planning the department structure.
Setting Controls for Using Departments and Profit Centers
Set the basic controls to use Departments and Profit Centers in the

.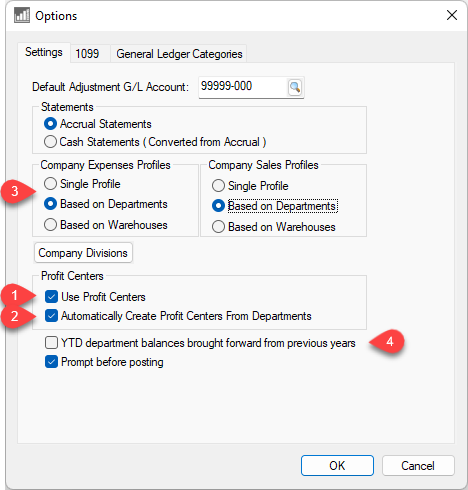 Profit Centers Options
Use Profit Centers
This switch will enable Profit Center buttons and processes.

ON
If you plan to use Profit Centers.

OFF
If you are not using the Profit Center feature of this system.

Automatically Create Profit Centers from Departments

ON
If all Profit Centers consist of only one department.
If this switch is ON, all Profit Center IDs are identical to the department ID code and the Profit Center window is accessed within the department window. See Profit Center button in .

OFF
If any Profit Center consists of more than one department.

Company Profiles
This switch determines if a department is set or determined on the expense or sales invoice. If the Based on Departments option is selected, the system allows a default department set for each customer. This option also adds an option on the sales invoice to identify the department for the invoice. Review [Main] Getting Started > Company Setup > Company Profiles for more details on this option.

YTD Department balances brought forward from previous years.
This switch determines if the running balance in the department history page is brought forward from the previous year to maintain a running balance from year to year.
Review the Creating Departments section for more details on departments

Profit Centers will be identified with a unique Profit Center ID enter in Creating New Profit Centers .

dialog. Review section on