Viewing Pay Period Information
To view pay period information from any past pay period, including information from past years, go to Labor > Pay Periods and the following window will appear: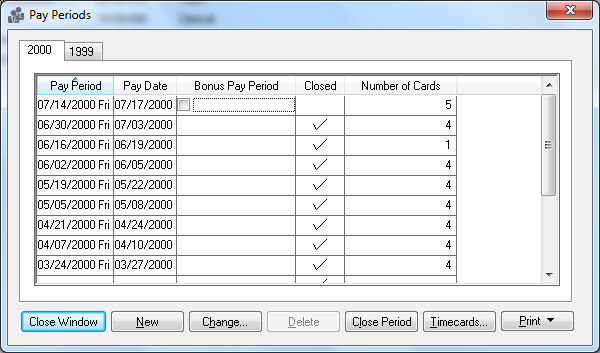 The pay periods are grouped by a calendar year. Click on the year tab you wish to view. The Pay Period ending date and the Pay Date are listed as well as the status of the pay period and the number of timecards entered within each period. If the payroll period has been closed, a check mark will appear in the Closed column.
Click New to establish a new pay period to be established. See Processing Payroll > Open New Pay Period section for details on creating a new pay period.

Click Delete to delete the selected pay period. Note that a pay period cannot be deleted if there are timecards associated with it.

Click Close Period, which appears when an open pay period is selected, if you wish to close the selected pay period. A pay period cannot be closed if there are open timecards associated with it. See Processing Payroll > Closing Pay Periods section for details on closing pay periods.

Click Reopen, which appears only when a closed pay period is selected, to reopen a pay period that has been closed. This allows entries or changes to be made to the related timecards. Note that a paycheck cannot be voided unless the pay period in which the timecard was established is open.

Click Timecards to display a list of all the timecards within the selected pay period. The timecard and its details can be viewed by highlighting it and clicking the Timecards button.
Click Close Window to exit the pay period window.
Financial Transactions for the Pay Period
All the financial transactions that were created by a single pay period can be listed on a report by completing the following steps:
Select Reports > Labor > G/L Transactions > Payroll Transaction Details report from the main File > Reports menu.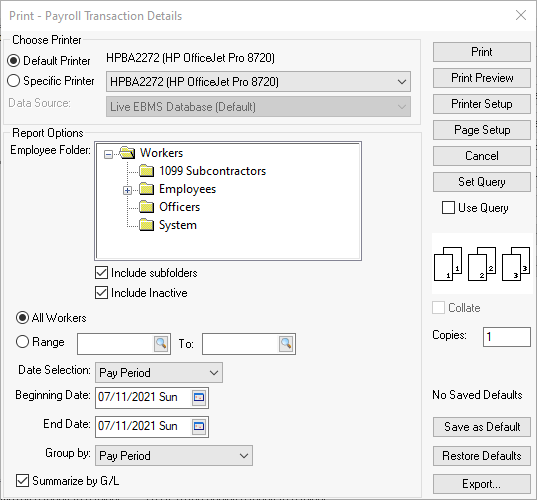 Select the Pay Period Date Selection and enter the pay period dates into the Beginning Date and End Date settings.