Printing Tasks and Work Orders
Tasks or work orders can be printed to facilitate the flow of information from the time the task is created until it is completed and billed or it can be a tag that is printed and attached to a piece of equipment.
The following dual column work order is one of the work order forms available to give to a technician in the shop or other location: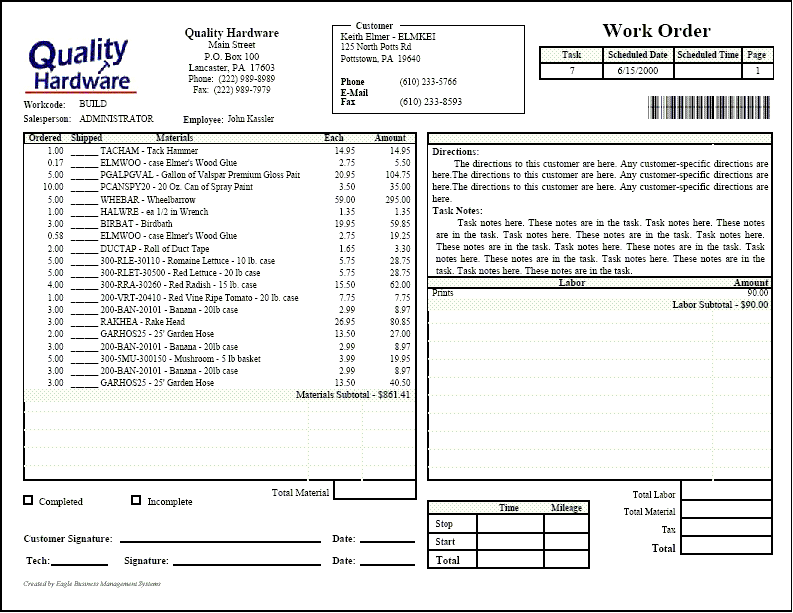 The materials list printed on the left page of the work order are entered within the sales order connected to the task or work order. The shipped quantity will not show on the work order.

The contact information printed in the center of the form header and the directions are derived from the worker record. The directions section will not show if no directions exist within the directions tab of the worker.

The task notes are found on the general tab of the task or work order. The notes section will not exist if the directions are blank on the worker and the task note is blank.

The parts that are used should be noted by writing the quantity in the shipped column. The subtotal should be crossed out if not all the parts are used. Additional parts should be noted on the materials list and totaled at the bottom – Total Material. The Total Material value should be copied to the lower left work order total area in the value box with the same label.

Notes about the work that was performed should be noted in the labor section. Additional costs should be totaled in the Total Labor box on the lower right side of the form.
The task work order should not be used to generate a complete invoice. The task notes should be imported into the sales order and then the dual column sales invoice should be printed. Review the Billing a Project or Task section for more details on generating an invoice.
The following work order form includes the specs of the attached serialized item: